7/21/2008 10:58:00 PM
Nik M. Zubaidi
okay..i take this test by referring to azima post..

here's the deal..you MUST take this test sincerely. cant cheat..because i also do not know how to cheat this time..

just go to this website..
CLICK "are you idiot?"
UPDATE: for USM student, please take this quiz after 6.00PM..because we are protected by fortiguard..thank you..

yes or no? just take the test now..

here's mine..

--------------
Winamp fish game..
here's how to load the game..
step 0 open winamp
step 1 Ctrl+P (Preferences)
step 2 click Plug-ins
step 3 click Input
step 4 highlight Nullsoft Vorbis Decoder
step 5 click About button
Click on the fish for a spin game
i'm lazy to do better than this.. :P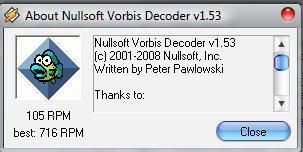 cant believe it? here's the proof..