6/22/2008 11:35:00 AM
Nik M. Zubaidi
Gearing up for our Merdeka Day launch on August 31st 2008, Foldees.com needs your help.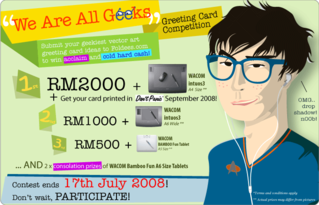 Foldees.com is a site created to market all the great greeting card ideas from anyone around the world. Designs will be moderated for content and professionalism, but once it goes on their site, they'll pay you a royalty every time someone buys it!

So from now until 17th July 2008, they need you to send in your geekiest greeting card ideas for their first contest, entitled "We Are All Geeks" (full brief below). The best part? You decide the winners!
Foldees.com is based on a user-created, user-chosen model. After the submission deadline ends, they'll put your cards on the site for any registered user to vote for, and the highest rated card wins – easy peasy Japaneasy! At the end of the day, you design the cards, and you (and a few more people) decide which ones rock!
Winning designs will be featured in all our promotional materials, and the highest-rated design will be distributed with every Don't Panic pack in the month of September 2008. To make it worth your while, the winning design will also earn
The Price:
1st Prize
- RM2000 cash + WACOM Intuos3 A4 Size (worth RM1699)
2nd Prize
- RM1000 cash + WACOM Intuos3 A6 Wide (worth RM1039)
3rd Prize
- RM500 cash + WACOM Bamboo Fun Tablet A5 Size (worth RM699)
Consolation prizes x2 - WACOM Bamboo Fun Tablet A6 Size (worth RM399)
Visit
Foldees homepage for more info..